What is Life Remodeled and why is Orion's Quest choosing to partner with them?  Life Remodeled is a Detroit-based nonprofit that invests approximately $5 million in cash, labor and materials into one Detroit neighborhood each year. Projects are determined by the community's needs and vision. Life Remodeled partners assist in three areas: Remodeling a community asset, repairing owner-occupied homes, and mobilizing 10,000 volunteers to clean up 300 city blocks in six days. Every phase is about people transformation, those served and those who are serving.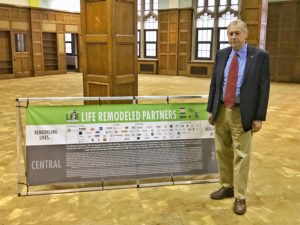 Life Remodeled is quickly gaining a reputation as a significant difference maker in Detroit, MI counting more than 250 businesses, churches and community organizations as regular partners, including Orion's Quest.
Their newest project involves commitment to transform the former Durfee Middle School, located adjacent Detroit Central High School into a Community Innovation Center. This exciting new facility will operate in partnership with Central High School and Detroit Public Schools Community District.  As a part of that project, Orion's Quest will be providing a K-12 STEM activity program for teachers and students in the community.
Recently, Dr. Ben Carson, US Secretary of Housing and Urban development, visited the Durfee Community Innovation Center to take a tour and talk with the Life Remodeled CEO, Chris Lambert. Detroit Mayor Duggan and other prominent business and community leaders were also present.  As a part of that presentation, OQ CEO Pete Lawrie was given the opportunity to explain Orion's Quest to Secretary Carson and the special guests. Pete focused on the OQ mission, what we do and how thrilled we are to be partnering with Life Remodeled.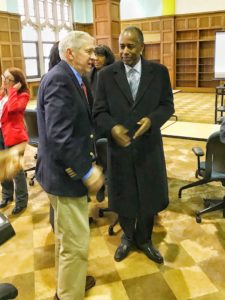 OQ CEO Pete Lawrie talking with HUD Sec. Dr. Ben Carson